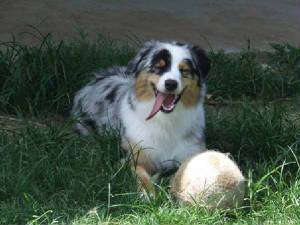 Taj is on her way back to her breeder, Sandy Landry. We wish Amy and Taj the best of luck in all their endeavors!!
Taj came to us from Sandra Landry Of Vinelake Aussies in Boston, MA. She was going to be here until summer 2010 on a lease, but Sandy has graciously allowed us to purchase Taj.
She is such a fun dog and a joy to have. She is captain of the squirrel patrol and is very good at her job. She loves to be outside, no matter what the temp or weather. Fetch is her favorite game next to squirrel watching. Playing in the water is also something she really enjoys.
Robyn has finished her in both AKC and ASCA.
Taj first RBW with us. Her and Robyn are a great team. Taj has really taken to her.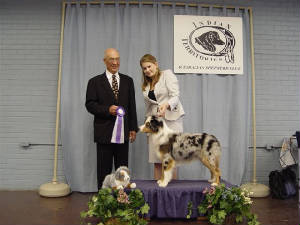 LITTER ANNOUNCEMENT!!
Puppies are here!!! Born April 19th. An all color litter of 4 girls and 3 boys.
We bred Taj to "Cash" Paradigm's Bayouland on Broadway. More information on the parents and litter can be found by clicking Taj's picture below or on the "Puppies" page. If interested please contact us at Lcozad1022@aol.com.